Maak van Domoticz een weerstation – Deel 1
Helaas is de data-service van Weather Undergound nog maar tot eind 2018 gratis beschikbaar. Nieuwe gebruikers kunnen nu al geen API-key meer registreren om gratis weer-data naar Domoticz te halen. De afgelopen week hebben wij hard gewerkt aan een nieuw script dat gebruik maakt van data van Buienradar en Darksky. In dit artikel leggen we stap voor stap uit hoe je jouw Raspberry met Domoticz kunt omtoveren naar een weerstation. Iedere 5 minuten krijg je automatisch de actuele waarden uit jouw woonplaats van:
Buitentemperatuur
Gevoelstemperatuur
Grondtemperatuur
Zicht
Luchtvochtigheid
Luchtdruk
Zonkracht
Windsnelheid, -stoten, -richting, -temperatuur
Dauwpunt
Bewolkingsgraad
UV-index
Ozon
Weersverwachting voor morgen
Weersverwachting komende 1 tot 5 dagen
Weersverwachting komende 6 tot 10 dagen
Zeer uitgebreide korte termijn verwachting
Weer-waarschuwing
Regen-waarschuwing


Benodigdheden
User variables
Aangezien je weer-data uit jouw woonplaats wilt hebben gaan we eerst twee user variables aanmaken. Ga naar Settings > More Options > User variables. Maak user variable LatitudeThuis en LongitudeThuis aan, beiden van het type "String" en met een variable Value van de gps-coördinaten van jouw woonplaats (3 of 4 decimalen zijn voldoende, meer decimalen kan tot errors leiden).

Virtuele sensoren aanmaken
De volgende stap is om een virtuele sensor aan te maken. Ga naar Setup -> Hardware en kies bij Type voor Dummy. Je mag zeg een herkenbare naam kiezen:

Zodra de Dummy Hardware toegevoegd is kunnen de virtuele sensoren gaan aanmaken. Klik hiervoor op Create Virtual Sensors (in het donkerblauw).

Maak nu de virtuele sensor aan van het type "Temperature" en geef "Grondtemperatuur" als naam van de sensor in: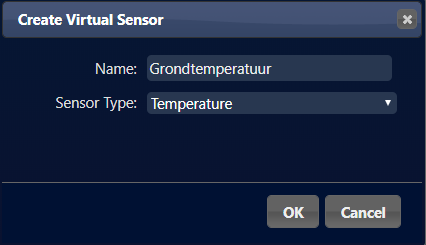 Maak op dezelfde wijze onderstaande virtuele sensoren aan:
Grondtemperatuur — Temperature sensor
Temperatuur buiten — Temperature sensor
Gevoelstemperatuur — Temperature sensor
Zicht — Visibility sensor
Zonkracht — Solar Radiation sensor
Wind — Wind sensor
Luchtvochtigheid — Humidity sensor
Luchtdruk — Barometer sensor
Verwachting morgen — Text sensor
Verwachting 1-5 dagen — Text sensor
Verwachting 6-10 dagen — Text sensor
Uitgebreide verwachting — Text sensor
Dauwpunt — Temperature sensor
Waarschuwing — Alert sensor
Bewolkingsgraad — Percentage sensor
UV — UV sensor
Ozone — Custom sensor with axis "DU"
DarkSky API-key
Tot slot moeten we nog een API-key aanmaken op de website van DarkSky. Deze API-key heb je nodig om via het script informatie van DarkSky naar Domoticz te halen. Volg de instructies op de DarkSky website.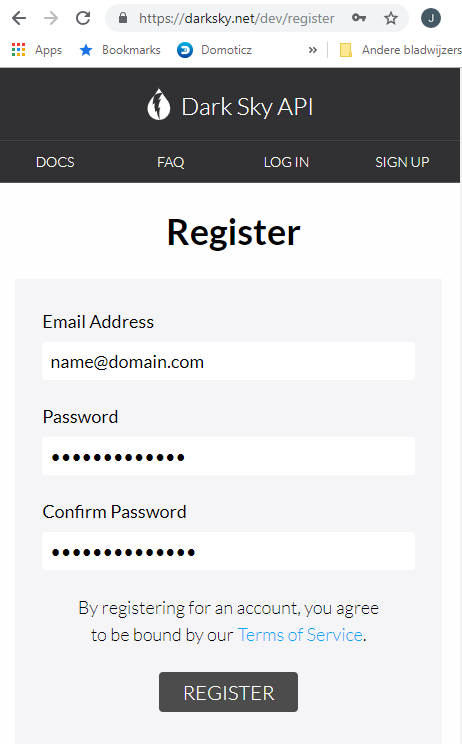 Script
De laatste stap is het script. Ga naar Setup > More Options > Events en kies voor een LUA event (van het type Time). Kopieer onderstaand script naar Domoticz. Vul op regel 16 het nummer van een weerstation bij jou in de buurt in. Op regel 17 vul het de API-key van DarkSky in. Debugging kun je op regel 18 aan- of uitzetten. Tot slot kun je op regel 19 de taal voor de weersverwachtingen instellen. Activeer het event en sla het op.
--[[ WEERSTATIONS:

Amsterdam   = 36	Groningen           = 13	Oost-Groninigen = 31	Vlissingen      = 44
Arnhem      = 2	    Hoek van Holland    = 17	Oost-Overijssel = 12	Voorschoten     = 46
Berkhout    = 3	    Hoogeveen           = 18	Rotterdam       = 33	Wadden          = 19
Den Helder  = 6	    Leeuwarden          = 26	Utrecht         = 5	    Weert           = 8
Eindhoven   = 7	    Lelystad            = 27	Terneuzen       = 47	West-Friesland  = 38
Gilze Rijen = 10	Maastricht          = 29	Twente          = 41	West-Utrecht    = 28
Goes        = 11	Noord-Groninigen    = 24	Uden            = 45	Woensdrecht     = 50
Gorinchem   = 16	Noordoostpolder     = 30	Venlo           = 1	    Zwolle          = 15
--]]

--------------------------------
---------- SETTINGS ------------
--------------------------------
local weerstation   = 45                                    -- Kies je weerstation naar keuze
local api_key       = "137635f6c0a2be5153a2f76357ba8ed4"    -- Darksky secret key
local debug         = 1                                     -- 0 = no debug, 1 = debug
local language      = "nl"                                  -- ar: Arabic, az: Azerbaijani, be: Belarusian, bg: Bulgarian, bs: Bosnian, ca: Catalan, cs: Czech, da: Danish,
                                                            -- de: German, el: Greek, en: English, es: Spanish, et: Estonian, fi: Finnish, fr: French, he: Hebrew, hr: Croatian,
                                                            -- hu: Hungarian, id: Indonesian, is: Icelandic, it: Italian, ja: Japanese, ka: Georgian, ko: Korean, kw: Cornish,
                                                            -- lv: Latvian, nb: Norwegian Bokmål, nl: Dutch, no: Norwegian Bokmål (alias for nb), pl: Polish, pt: Portuguese,
                                                            -- ro: Romanian, ru: Russian, sk: Slovak, sl: Slovenian, sr: Serbian, sv: Swedish, tet: Tetum, tr: Turkish,
                                                            -- uk: Ukrainian, x-pig-latin: Igpay Atinlay, zh: simplified Chinese, zh-tw: traditional Chinese

commandArray = {}

local dev_TempGround    = "Grondtemperatuur"        -- Temperature sensor
local dev_TempOutside   = "Temperatuur buiten"      -- Temperature sensor
local dev_TempApperent	= "Gevoelstemperatuur"      -- Temperature sensor
local dev_Visibility    = "Zicht"                   -- Visibility sensor
local dev_SunPower      = "Zonkracht"               -- Solar Radiation sensor
local dev_Wind          = "Wind"                    -- Wind sensor
local dev_Humidity  	= "Luchtvochtigheid"        -- Humidity sensor
local dev_Pressure      = "Luchtdruk"               -- Barometer sensor
local dev_TextTomorrow  = "Verwachting morgen"      -- Text sensor
local dev_TextShort     = "Verwachting 1-5 dagen"   -- Text sensor
local dev_TextLong      = "Verwachting 6-10 dagen"  -- Text sensor       
local dev_LongText   	= "Uitgebreide verwachting"	-- Text sensor       
local dev_DewPoint      = "Dauwpunt"                -- Temperature sensor 
local dev_Alert      	= "Waarschuwing"            -- Alert sensor
local dev_CloudCover    = "Bewolkingsgraad"         -- Percentage sensor
local dev_UV            = "UV"                      -- UV sensor
local dev_Ozone         = "Ozone"                   -- Custom sensor with axis "DU"

-- Locatie-bepaling
local lat	= uservariables['LatitudeThuis']
local lon	= uservariables['LongitudeThuis']
local coord = lat..","..lon

--Functie devices updaten
function UpdateDev(device,nvalue,svalues)
    commandArray[#commandArray+1] = {['UpdateDevice'] = otherdevices_idx[device]..'|'..tostring(nvalue)..'|'..tostring(svalues)}
end

-- Functie afronding
function round(num, dec)
    if num == 0 then
        return 0
    else
        local mult = 10^(dec or 0)
        return math.floor(num * mult + 0.5) / mult
    end
end

--------------------------------------------------
----- ######## Buienradar API Data call ######## -----
--------------------------------------------------
time = os.date("*t")
if  ((time.min+2)%5)==0  then -- Script loopt iedere 5 minuten (bv. 11.03, 11.08, 11.13, 11.18, etc.
    json = (loadfile "/home/pi/domoticz/scripts/lua/JSON.lua")()  -- For Linux
    local config=assert(io.popen('curl "https://api.buienradar.nl/data/public/2.0/jsonfeed"'))
    local Stringjson = config:read('*all')
    config:close()
    local jsonData = json:decode(Stringjson)

-- Convert the json to a LUA table
if jsonData.actual.stationmeasurements[ weerstation ] ~= nil then  -- this sometimes happens around midnight
    val_TempOutside             = jsonData.actual.stationmeasurements[ weerstation ].temperature
    val_TempApperent            = jsonData.actual.stationmeasurements[ weerstation ].feeltemperature
    val_TempGround              = jsonData.actual.stationmeasurements[ weerstation ].groundtemperature
    val_Visibility              = jsonData.actual.stationmeasurements[ weerstation ].visibility/1000
    val_SunPower               	= jsonData.actual.stationmeasurements[ weerstation ].sunpower    
    val_WindDirection           = jsonData.actual.stationmeasurements[ weerstation ].winddirection
    val_WindDegrees             = jsonData.actual.stationmeasurements[ weerstation ].winddirectiondegrees
    val_WindSpeed              	= jsonData.actual.stationmeasurements[ weerstation ].windspeed*10
    val_WindGust              	= jsonData.actual.stationmeasurements[ weerstation ].windgusts*10
    val_Humidity        		= jsonData.actual.stationmeasurements[ weerstation ].humidity
    val_Pressure                = round(jsonData.actual.stationmeasurements[ weerstation ].airpressure,0)
    val_WeatherTomorrow			= jsonData.forecast.fivedayforecast[1].weatherdescription        
    val_SunChanceTomorrow		= jsonData.forecast.fivedayforecast[1].sunChance
    val_RainChanceTomorrow      = jsonData.forecast.fivedayforecast[1].rainChance        
    val_RainMinimum             = jsonData.forecast.fivedayforecast[1].mmRainMin
    val_RainMaximum             = jsonData.forecast.fivedayforecast[1].mmRainMax
    val_WindDirectionTomorrow   = jsonData.forecast.fivedayforecast[1].windDirection        
    val_WindSpeedTomorrow       = jsonData.forecast.fivedayforecast[1].wind        
    val_TempTomorrowMinMin    	= jsonData.forecast.fivedayforecast[1].mintemperatureMin --minimale minimumtemperatuur
    val_TempTomorrowMaxMin    	= jsonData.forecast.fivedayforecast[1].mintemperatureMax --maximale minimumtemperatuur
    val_TempTomorrowMinMax    	= jsonData.forecast.fivedayforecast[1].maxtemperatureMin --minimale maximumtemperatuur
    val_TempTomorrowMaxMax    	= jsonData.forecast.fivedayforecast[1].maxtemperatureMax --maximale maximumtemperatuur
end

-- Windrichting naar Engelse afkorting
local val_WindDirectionEnglish = N
    if val_WindDirection == "N" then val_WindDirectionEnglish = "N"
        elseif val_WindDirection == "NNO"    then val_WindDirectionEnglish = "NNE"
        elseif val_WindDirection == "NO"     then val_WindDirectionEnglish = "NE"
        elseif val_WindDirection == "ONO"    then val_WindDirectionEnglish = "ENE"
        elseif val_WindDirection == "O"      then val_WindDirectionEnglish = "E"
        elseif val_WindDirection == "OZO"    then val_WindDirectionEnglish = "ESE" 
        elseif val_WindDirection == "ZO"     then val_WindDirectionEnglish = "SE" 
        elseif val_WindDirection == "ZZO"    then val_WindDirectionEnglish = "SSE" 
        elseif val_WindDirection == "Z"      then val_WindDirectionEnglish = "S" 
        elseif val_WindDirection == "ZZW"    then val_WindDirectionEnglish = "SSW" 
        elseif val_WindDirection == "ZW"     then val_WindDirectionEnglish = "SW"     
        elseif val_WindDirection == "WZW"    then val_WindDirectionEnglish = "WSW"
        elseif val_WindDirection == "W"      then val_WindDirectionEnglish = "W"
        elseif val_WindDirection == "WNW"    then val_WindDirectionEnglish = "WNW"
        elseif val_WindDirection == "NW"     then val_WindDirectionEnglish = "NW"
        elseif val_WindDirection == "NNW"    then val_WindDirectionEnglish = "NNW"
    end

-- Vochtigheidsstatus bepalen (0=Normal, 1=Comfortable, 2=Dry, 3=Wet)
  if tonumber(otherdevices['Dauwpunt']) >= 20     then val_HS = "3" -- wet
  elseif tonumber(otherdevices['Dauwpunt']) >= 10 then val_HS = "1" -- confortable
  else val_HS = "2"                                                 -- dry
  end

--Luchtdruk-omschrijving bepalen
 local BaroVS = 0
    if val_Pressure == nil          then BaroVS = 5          -- 5 = unknown 
        elseif val_Pressure < 966   then BaroVS = 4          -- 4 = thunderstorm
        elseif val_Pressure < 993   then BaroVS = 6          -- 6 = cloudy/rain
        elseif val_Pressure < 1007  then BaroVS = 2          -- 2 = cloudy
        elseif val_Pressure < 1013  then BaroVS = 3          -- 3 = unstable
        elseif val_Pressure < 1033  then BaroVS = 0          -- 0 = stable
        elseif val_Pressure < 1050  then BaroVS = 1          -- 1 = sunny
    end

--Min/Max. temperatuur bepalen
if val_TempTomorrowMinMin == val_TempTomorrowMaxMin then TempMinimum = val_TempTomorrowMinMin
    else TempMinimum = val_TempTomorrowMinMin.." - "..val_TempTomorrowMaxMin end
if val_TempTomorrowMinMax == val_TempTomorrowMaxMax then TempMaximum = val_TempTomorrowMinMax
    else TempMaximum = val_TempTomorrowMinMax.." - "..val_TempTomorrowMaxMax
end

--Regenhoeveeldheid bepalen
if val_RainMinimum == val_RainMaximum then RainIntensity = val_RainMinimum
    else RainIntensity = val_RainMinimum.." - "..val_RainMaximum end

-- Windrichting tekst bepalen
if val_WindDirectionTomorrow == "z" or val_WindDirectionTomorrow == "Z" then WindDirectionTomorrow = " het zuiden"
    elseif val_WindDirectionTomorrow == "zw" or val_WindDirectionTomorrow == "ZW" then WindDirectionTomorrow = "het zuidwesten"
    elseif val_WindDirectionTomorrow == "zo" or val_WindDirectionTomorrow == "ZO" then WindDirectionTomorrow = "het zuidoosten"
    elseif val_WindDirectionTomorrow == "w" or val_WindDirectionTomorrow == "W" then WindDirectionTomorrow = "het westen"
    elseif val_WindDirectionTomorrow == "nw" or val_WindDirectionTomorrow == "NW" then WindDirectionTomorrow = "het noordwesten"
    elseif val_WindDirectionTomorrow == "n" or val_WindDirectionTomorrow == "N" then WindDirectionTomorrow = "het noorden"
    elseif val_WindDirectionTomorrow == "no" or val_WindDirectionTomorrow == "NO" then WindDirectionTomorrow = " het noordoosten"
    elseif val_WindDirectionTomorrow == "o" or val_WindDirectionTomorrow == "O" then WindDirectionTomorrow = "het oosten"
    else WindDirectionTomorrow = "variabele richtingen" end

--Voorspellingen
forecast=val_WeatherTomorrow.. "\n " .."\n".. "Komende nacht daalt de temperatuur naar "..TempMinimum.." °C. Morgen overdag wordt morgen maximaal "..TempMaximum.. " °C. Er is morgen "..val_SunChanceTomorrow.." % kans op zon en "..val_RainChanceTomorrow.." % kans op neerslag ("..RainIntensity.." mm). De wind komt uit "..WindDirectionTomorrow.." en zal kracht "..val_WindSpeedTomorrow.." Bft hebben." .."\n " .."\n "

if otherdevices_svalues[dev_TextTomorrow] ~= forecast then UpdateDev(dev_TextTomorrow,0,forecast) end

-- Updating domoticz devices
    UpdateDev(dev_TempGround,0,val_TempGround)     
    UpdateDev(dev_TempOutside,0,val_TempOutside)
    UpdateDev(dev_TempApperent,0,val_TempApperent)
    UpdateDev(dev_Visibility,0,val_Visibility)
    UpdateDev(dev_SunPower,0,val_SunPower)
    UpdateDev(dev_Wind,0,val_WindDegrees..";"..val_WindDirectionEnglish..";"..val_WindSpeed..";"..val_WindGust..";"..val_TempOutside..";"..val_TempApperent)
    UpdateDev(dev_Humidity,val_Humidity.."|"..val_HS)
    UpdateDev(dev_Pressure,0,val_Pressure..";"..BaroVS)

if debug==1 then
    print ("Temperatuur grond: "..val_TempGround.." °C") 
    print ("Temperatuur buiten: "..val_TempOutside.." °C") 
    print ("Temperatuur gevoel: "..val_TempApperent.." °C")
    print ("Zicht: "..val_Visibility.." km")
    print ("Zonkracht: "..val_SunPower.." Watt/m2")
    print ("Wind: "..round((val_WindSpeed/10),0).." Bft, ")
    print ("Luchtvochtigheid: "..val_Humidity.." %")
    print ("Luchtdruk: "..val_Pressure.." hPa")
end

end
---------------------------------------
-- ######## Darksy API call ######## --
---------------------------------------

if  ((time.min+2)%5)==0  then -- Script loopt iedere 5 minuten (bv. 11.03, 11.08, 11.13, 11.18, etc.
    json = (loadfile "/home/pi/domoticz/scripts/lua/JSON.lua")()  -- For Linux
    local config=assert(io.popen('curl "https://api.darksky.net/forecast/'..api_key..'/'..coord..'?lang='..language..'&units=si&exclude=hourly,flags"'))
    local Stringjson = config:read('*all')
    config:close()
    local jsonData = json:decode(Stringjson)

-- Convert the json to a LUA table
   if jsonData ~= nil then  -- this sometimes happens around midnight
        val_UV          = jsonData.currently.uvIndex
        val_Ozone       = jsonData.currently.ozone
        val_DewPoint    = round(jsonData.currently.dewPoint,1)
        val_CloudCover	= jsonData.currently.cloudCover*100
end

if jsonData.alerts[1] ~= nil then 
    val_alert_severity = jsonData.alerts[1].severity
    val_alert_time = jsonData.alerts[1].time
    val_alert_text = jsonData.alerts[1].description
    val_alert_title = jsonData.alerts[1].title else
        val_alert_severity = "1"
        val_alert_title = "GEEN WAARSCHUWINGEN"
        val_alert_text = "Er zijn geen waarschuwingen bekend" 
end

if val_alert_severity == "advisory" then val_alert_severity = "2"
    elseif val_alert_severity == "watch" then val_alert_severity = "3"
    elseif val_alert_severity == "warning" then val_alert_severity = "4" 
end

if jsonData.alerts[2] ~= nil then 
    val_alert_time2 = jsonData.alerts[2].time
    val_alert_text2 = jsonData.alerts[2].description
    val_alert_title2 = jsonData.alerts[2].title 
    else val_alert_text2 = ""
         val_alert_title2 = "" 
end

-- Weerswaarschuwing
    alert=val_alert_title.."<br>"..val_alert_text.."<br><br>"..val_alert_title2.."<br>"..val_alert_text2
    
    if debug==1 then
        print("Bewolkingsgraad : "..val_CloudCover.. " %")
        print("UV-kracht :"..val_UV)
        print("Ozone : De ozone-waarde is "..val_Ozone) 
        print("Dauwpunt : "..val_DewPoint.. " °C")
    end
    
-- Domoticz devices updaten
    UpdateDev(dev_CloudCover,0,val_CloudCover)
    UpdateDev(dev_DewPoint,0,val_DewPoint)
    UpdateDev(dev_UV,0,val_UV..";0")
    UpdateDev(dev_Ozone,0,val_Ozone)
 
    if otherdevices_svalues[dev_Alert] ~= alert then UpdateDev(dev_Alert,val_alert_severity.."|"..val_alert_title.."<br>"..val_alert_text.."<br><br>"..val_alert_title2.."<br>"..val_alert_text2) end

if debug==1 then
    print ("Dauwpunt: "..val_DewPoint.." °C")
    print ("Bewolkingsgraad: "..val_CloudCover.." %")
    print ("UV-Index: "..val_UV)
    print ("Ozone: "..val_Ozone)
end

end
-------------------------------------------------------
-- ######## Buienradar Verwachting API call ######## --
-------------------------------------------------------
if  ((time.min+1)%30)==0  then -- Script loopt iedere 5 minuten (bv. 11.03, 11.08, 11.13, 11.18, etc.
    json = (loadfile "/home/pi/domoticz/scripts/lua/JSON.lua")()  -- For Linux
    local config=assert(io.popen('curl "https://api.buienradar.nl/data/public/1.1/jsonfeed"'))
    local Stringjson = config:read('*all')
    config:close()
    local jsonData = json:decode(Stringjson)

-- Convert the json to a LUA table
    val_LongText = jsonData.buienradarnl.weergegevens.verwachting_vandaag.titel .."\n " .."\n ".. jsonData.buienradarnl.weergegevens.verwachting_vandaag.tekst .."\n " .."\n"
    val_TextShort    = jsonData.buienradarnl.weergegevens.verwachting_meerdaags.tekst_middellang["@periode"] .."\n " .."\n ".. jsonData.buienradarnl.weergegevens.verwachting_meerdaags.tekst_middellang["#text"] .."\n " .."\n"
    val_TextLong    = jsonData.buienradarnl.weergegevens.verwachting_meerdaags.tekst_lang["@periode"] .."\n " .."\n ".. jsonData.buienradarnl.weergegevens.verwachting_meerdaags.tekst_lang["#text"] .."\n " .."\n"

if otherdevices_svalues[dev_LongText] ~= val_LongText then UpdateDev(dev_LongText,0,val_LongText) end
if otherdevices_svalues[dev_TextLong] ~= val_TextLong then UpdateDev(dev_TextLong,0,val_TextLong) end
if otherdevices_svalues[dev_TextShort] ~= val_TextShort then UpdateDev(dev_TextShort,0,val_TextShort) end

end

return commandArray